Search engine optimization (SEO) is a term that gets thrown around a lot. It is no longer a hip, mysterious thing. Many people know what it is and numerous large companies already have a well-developed SEO strategy in place.
It has become so commonplace that the term no longer holds much weight nor evokes excitement. Everyone already knows about keywords and their use in title tags, meta descriptions, content and the like (even if they don't know how to use them as effectively as possible).
A solid SEO strategy takes time to develop and takes even more time to start seeing favorable results. Many companies feel confident in their SEO strategy and marketing. In fact, with all the available tools out there to analyze every possible visitor interaction with a website, there is no excuse to not have some sort of search engine marketing strategy, let alone a solid, well-refined one.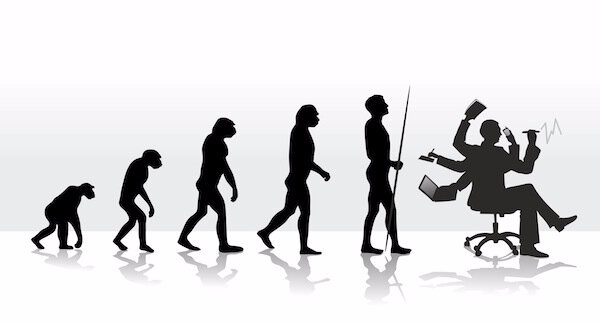 At the same time, it's all too easy to get bogged down by cost-per-click numbers, conversion and bounce rate percentages, total revenue raised and seconds people stay on each page of your website using a plethora of tools. That's where artificial intelligence (AI) is slowly coming onto the SEO scene.
How AI SEO Works
Artificial intelligence utilizes super computers to analyze data. These machines don't have emotions nor can they read, see or respond.
While AI can take the bulk of the data analysis off your shoulders, it is still your job to provide quality, valuable, interesting content.
Although, it has to be said, artificial intelligence can help you come up with content for your website.
AI uses analytics data to construct and analyze patterns in your website visitors' interaction and experience with your site. The insights generated and analyzed with AI yield a list of future user engagement site behavior and recommended action items to best serve users. AI can even help carry out some of those action items.
The super computers of AI have the ability to execute the more technical action items such as coding, which greatly reduces the need for humans to code software and saves huge amounts of time and money.
To see AI and SEO work together, check out Google's RankBrain.
RankBrain analyzes keywords against searches to let Google know what type of end results a web user is looking for. Google can then use that data to rank the relevancy of webpages concerning those keywords.
Some of the other benefits AI offers to SEO include:
The ability to publish higher-quality, optimized content
A gauge to measure other websites against the resulting data
The ability to discover and implement the best SEO strategies for your website
Gives your website an advantage over the competitors
Artificial Intelligence and SEO
Information and information examination are essential in building up and dealing with a regularly changing website improvement technique. To slight information is absolutely trust and depend on the impulses of the god-like Google and its always showing signs of change calculation. To rank well in query items, your SEO methodology would only modify and fit in with the systems and techniques that line up with Google's pursuit recipe, de-stressing the necessities, needs and suppositions of your focused on group of onlookers.
|Get a free site report and perceive how your site is performing.|
Computerized reasoning has been utilized as a part of the science, therapeutic and tech ventures for a considerable length of time, breaking down enormous information that assistance makers, makers, and retailers give quality items shoppers need, require and anticipate. SEO tips for Improve Website Search Engine Rank
AI has the capacity and energy to do likewise for SEO.
As specified some time recently, web index showcasing intensely depends on calculating. All the investigation instruments out there are convenient, yet the human cerebrum can just process such a significant number of the details. The convenience of the information from these site examination devices can be augmented with the calculating energy of manmade brainpower.
Simply think if your SEO procedure could be significantly more refined and yield surprisingly better inquiry positioning outcomes. That can be accomplished with utilizing AI.
AI has been utilized as a part of advanced showcasing for a long time. Computerized reasoning has outfitted advertisers with the capacity to assemble promotion focusing on information, recognize strategically pitching gathering of people sections, decide the viability and pertinence of substance and examine the passionate effect content has on an intended interest group.
While AI is utilized broadly in numerous enterprises, its utilization is genuinely new in SEO.
The most effective method to Create a Good User Experience
You don't only need individuals to see your site. You need them to visit it, invest energy in it and take the coveted activities on it.
You can do that by offering a site that individuals appreciate and discover helpful and important. On a fundamental level, a site with great client encounter has simple route, fascinating, helpful and significant substance, a stylishly satisfying outline and has brisk and simple access to different pages and substance on the site.
What AI SEO Software is Out There?
AI is not intensely utilized as a part of SEO in light of the fact that there are as of now not very many choices.
To accomplish the uplifted SEO comes about offered by manmade brainpower, you can either use AI programming instruments, for example, SEO Powersuite and Muncheye (simply naming a couple that are out there and this ought not be taken as a particular programming suggestion), or make the heavy speculation of obtaining a multi-million-dollar super PC.
Client Experience and SEO
Computerized reasoning not just advantages your business by supporting your endeavors to rank in the web search tools, it encourages you better break down and comprehend your site's guests. This enables you to offer them a superior affair on your site.
Website design enhancement and client encounter (UX) go together. A strong SEO procedure in light of watchful examination investigation will support your site's list items rankings which will bring about more eyes seeing your site. A decent client experience will prompt more clients going by, remaining on and changing over on your site.
UX is turning into a more noteworthy factor that Google is utilizing as a part of its inquiry positioning calculation. While it is still transcendently information based, the Google positioning calculation is moving to concentrate more on the client encounter.
Google needs to hold its notoriety for being a quality web crawler, so it's principle objective is to make web perusing charming. The fulfillment and happiness regarding web clients might be met if clients are given indexed lists that are pertinent, protected, valuable and simple to explore.
To guarantee the most ideal web perusing knowledge, the product engineers at Google made a hunt positioning calculation that thinks like Internet clients.
Presently, your web engineers can do all the moral SEO best practices out there to get your page to rank profoundly in indexed lists, yet in the event that clients don't have a decent affair on your website, every one of your endeavors will be futile.
Utilizing AI to Develop Your UX
Counterfeit consciousness can significantly help enhance your SEO procedure by taking the tremendous measures of information from your site and give more inside and out experiences into your pages' investigation. This, thus, can be utilized to outline a superior client encounter.
As Google keeps on organizing the client involvement in its calculation, this information can end up noticeably basic. It's one thing to give a rundown of things that for the most part prompt a superior client encounter (as we did above), however it's something else totally to have the capacity to address to a great degree particular components of that experience.
As more instruments wind up plainly accessible that utilize some type of AI, we will see significantly more SEO systems that depend on this level of systematic ability.
This, thusly, will prompt new sorts of activity designs that can help your rank higher in indexed lists and give your site guests a superior ordeal. SEO tips for Improve Website Search Engine Rank
Building up a responsive outline. The multiplication of cell phones and tablets mean an ever increasing number of shoppers will be seeing your site on the significantly littler screen of a cell phone. For a decent client encounter, ensure your site is portable responsive, rendering accurately on a desktop, portable PC, tablet and cell phone.
Upgrading your site for both Google and web clients. As indicated above, providing food your website streamlining technique endeavors just to the Google calculation will most likely lower your list items. In the meantime, concentrating just on the clients will overlook some of Google's page rank calculation which will shield your page from positioning and it could.
Highlighting a satisfactory number of top notch joins. On the off chance that you can't address a guest's issue on that page, guide them to a page (or much another site) that can. The client will extraordinarily value it and your site page's power will be supported.
Making significant, helpful, important substance. Google's calculation considers clients' communications and involvement with a site in light of to what extent they remain on a page and what site page in the indexed lists a client taps on.
Making your site simple to explore. Web clients are occupied and they hope to discover the solutions to their needs, needs and inquiries promptly. On the off chance that your site is confounding and difficult to explore, individuals will leave and never return.
Save
Save